Placemaking a Success for Wildwood BID
Patrick Rosenello
Executive Director, Wildwood Business Improvement District Management Corporation
May 14, 2019
Byrne Plaza, located in the heart of Downtown Wildwood, brings the community together for events, fun photo ops and relaxation. Situated on Pacific Avenue, just two blocks from the famous Wildwoods Boardwalk, Byrne Plaza offers 60,000 square feet of outdoor space, with plenty of space for events. The beautiful new themed venue was designed by renowned architect Richard Stokes. It features outdoor sculptures of beach balls, vast greenery, and a covered amphitheater – perfect for hosting events.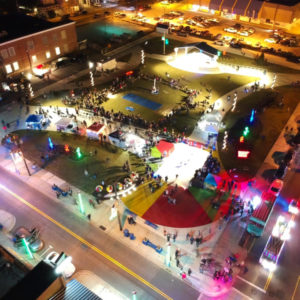 Opened in 2018 and managed by the Wildwood's Business Improvement District (WBID), the $1.15 million project is anchored by a huge 25' x 55' covered pavilion at the west end and can accommodate audiences between 2,500 – 5,000 people for stage-based concerts and performances and up to 100 vendors in 10' x 10' tents.
Tens of thousands of people attended approximately 80 events in 2018. Prior to the construction of Byrne Plaza there was very little activity in the way of special events held in Downtown Wildwood. The development of Byrne Plaza has expanded the entertainment value of the Wildwoods as a vacation destination. Now, visitors to this five-mile island can step off the boardwalk and into the Downtown District to experience a new avenue of entertainment possibilities.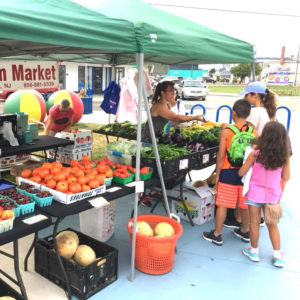 The Plaza is home to a wide variety of annual Wildwood must-visit events including the Saturday morning Farmers Market that runs from Memorial Day through September, free summertime Tuesday Night Family Movies and Thursday Night Concerts, themed events, Sip & Shop Events, community events, remembrance ceremonies and more. Byrne Plaza's '5 Fabulous Days of Fitness in the Plaza' offers vacationers, as well as residents, a chance to stay active while vacationing in the Wildwoods! Fitness classes are held Monday through Friday throughout the summer, from 8:30-9:30 a.m. Up for a challenge? Check out Boot Camp Circuit Training on Monday, Wednesday, and Friday, and enjoy Yoga Tuesdays and Thursdays.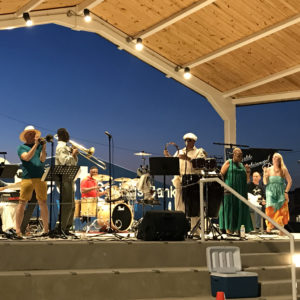 Love the combination of outdoor fun, live music, wine, beer and food? Then you won't want to miss the Country Band Concert Weekend in June, the '80s Dance Concert in July and the Wine & Jazz Festival in August – all taking place at Byrne Plaza.
The WBID has added nine new multi-day special events for 2019, totaling approximately 120 events to be held at Byrne Plaza throughout the year. Downtown Wildwood's new events for 2019, with Byrne Plaza at the center of all the action, include:
Bacon Lovers Weekend – May 25-27
Country Band Concert Weekend – June 1-2
Seafood and Wine Festival – June 15-16
80's Dance Concert Weekend – July 6-7
Rib-Off Festival – August 3-4
Wine & Jazz Festival – August 9-11
Chili & Chowder Cook-Off Festival – October 12-14
Downtown Wildwood Hall-O-Wine Festival – October 25-27
The WBID is a private, non-profit management corporation charged with overseeing the Wildwood Downtown District, and represents all of the properties from west of Ocean Avenue to west of Pacific Avenue and from 26th to Cresse Avenues. The WBID has focused nearly all of its efforts on improving the public perception and aesthetics of the Downtown, as well as bringing new businesses in.
The WBID's key objectives for developing Byrne Plaza – to increase foot traffic and expand Downtown Wildwood as a destination – have come to fruition. This increase in foot traffic also further fuels the economic engine of the Downtown by drawing patrons into the many restaurants and shops that make up the Downtown district. Byrne Plaza's prime location among local businesses, including a robust dining district, is another key factor in its contribution to the evolving Downtown Wildwood. Byrne Plaza has transformed the Downtown into a must-see attraction while visiting the Wildwoods.
Shortly after its opening, Byrne Plaza was awarded the Downtown New Jersey Excellence Award in the category of Built Projects. This award recognizes the joint efforts of developing Byrne Plaza, and its positive economic impact to the growth of Downtown Wildwood and the surrounding areas.
 Byrne Plaza, in addition to the Wildwoods as a whole, aims to appeal to visitors of all ages – making it an ideal feature of this multi-generational resort town. From family movies nights and outdoor concerts, to 80's dance weekends and specialty wine, craft beer and unique food festivals, Byrne Plaza promises to give everyone an unforgettable experience.
For more information on Byrne Plaza, contact the Wildwood Business Improvement District at 609-523-1602 or email wildwoodbusinessdistrict@gmail.com. Or visit the WBID online at www.dooww.com, Facebook @dowildwood, and Twitter @DoWildwoodNJ.