Verona Plays to its Strengths
Steven J. Neale
Director of Administration & Economic Development, Township of Verona
 May 21, 2021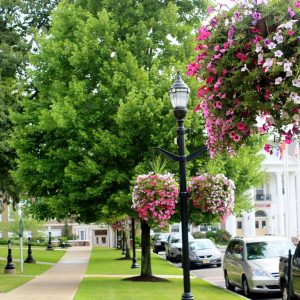 Verona is a small, primarily residential community spanning about 2.5 square miles, and is centrally located in Essex County along Bloomfield Avenue. Verona features many small businesses, including various retail shops and prides itself as having some of the most amazing eateries in the area. Verona has been listed at #3 in the top "25 Great Towns" by NJ Monthly Magazine and has one of the best public-school systems in the state. It has always had a small-town vibe while maintaining modern amenities and a true sense of community. Verona has two main business districts, the Town Center on Bloomfield Avenue and the other along Rt. 23/Pompton Avenue. Both locations are easily accessible off main roads, and Town Center is very walkable from anywhere in town.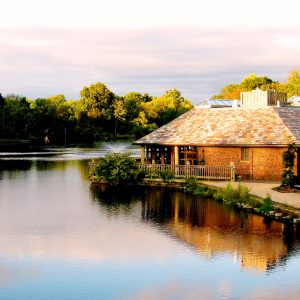 One of the most striking features in downtown Verona is Verona Park, part of the Essex County Parks system. The 54-acre park was designed by the Olmstead Brothers and features twin lakes and a picturesque bridge that is a favorite location of wedding photographers during the summer months. Adjacent to the 13-acre lake, is a modernized, expanded boathouse where people boat and fish. At sunrise, joggers and runners make their way through a 1.2-mile course, while tennis courts and several playgrounds are used throughout the day. Special events are held in the park include craft shows and concerts.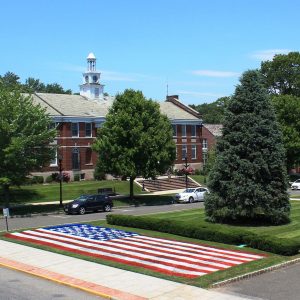 Nearby is the Civic Center. Right in the heart of town, it hosts numerous town-wide activities throughout the year, many promoting our local businesses and non-profit organizations. The Civic Center Square is home to historic buildings like Verona Town Hall, H.B. Whitehorne Middle School, the Verona Police Department, and the Verona Public Library – a vibrant and active Carnegie Library. Verona holds large festivals in the center of town, including the Green Fairs Summer Concert Series, movie nights, a Chalk Art Festival, book sales, pet festivals, a downtown trick or treating event, pumpkin painting, various holiday ceremonies, and our very popular Fair in the Square winter festival, which has been running for 24 years. The Fair includes local food vendors, crafters, artisans, businesses, non-profits, children's activities, and ends with a traditional tree lighting with Santa and the Verona Fire Department. There is no shortage of activity in town and even with all of that, Verona still tries to create new and fun events that help promote our local businesses.
Verona's evolution in recent years makes it home to some of the best restaurants and chefs in the state, including the best pizza in NJ according to a recent statewide competition! Often overshadowed by neighboring Montclair, Verona has some incredible dining opportunities with over thirty different eateries offering something for every taste. Verona has become a food destination, and its time the rest of the state knows our secret!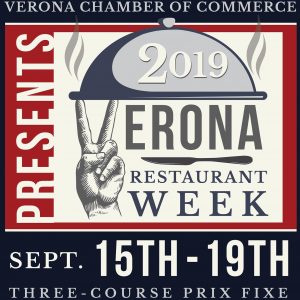 In 2018, the Township partnered with the Verona Chamber of Commerce to create the first ever Verona Restaurant Week. The event took place over 5 days in mid-September and was a huge success, bringing in diners from all over the area. It allowed residents the opportunity to explore some new places they have never experienced and drew in people who have never heard of Verona before. Every participating restaurant created a special Restaurant Week menu featuring dishes a discounted price. The event was a success again in 2019, and although it was cancelled in 2020 due to COVID, Restaurant Week will be back in full force for 2021!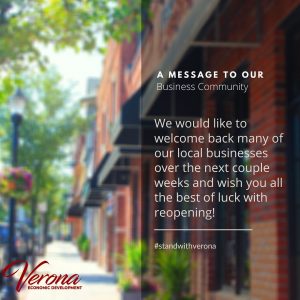 Since the first Restaurant Week, Verona has welcomed new restaurants featuring new types of cuisines and adding unique options for diners. Verona plays up its strength as a food destination. While we're not the "just pizza places and salons" adage jokingly attributed to us in the past, Verona held the 1st Annual Pizza Fest in January of 2021 as a nod to that history. The event was created to give a boost to restaurants during the down time of winter when outdoor dining options were limited. All eateries, not just pizza places, were encouraged to participate by featuring their own unique twist on the traditional pizza. The event was promoted on social media where diners were asked to post pictures of their Pizza Fest meals on the Verona, NJ Takeout & Delivery Service Facebook group, which was created at the start of the pandemic to help local businesses. That group has grown to almost three thousand members and continues to add new members every day. Members have used the group regularly to ask for suggestions, make recommendations, and post photos. Local restaurants use it to highlight specials and events. The group is open to anyone outside of Verona, but only Verona business can post and promote themselves in the group. Due to the success of the group and these types of events, many of our restaurants have had to change the way they do business to keep up with the demand. We are happy to report that many said it helped them get through some tough winter months and even thrive while dealing with COVID restrictions.
Verona is already in the process of creating new events like a Seafood Fest in June, and a BBQ Fest in July. We realize we need to remain dynamic and creative to see a thriving business community and look forward to seeing what the future holds as things reopen. Verona may not have as many retail shops as other downtowns, but we are focusing on what we are really good at right now and hope to watch other industries come into town to setup shop. We have an eager and close-knit business community that continues to grow and become a stronger family.
We look forward to hosting you soon!
For more information about opening a business in Verona, please contact Steven Neale, Director of Administration & Economic Development for the Township of Verona and Township Liaison to the Verona Chamber of Commerce at stneale@veronanj.org or 973-239-4921.