Highland Park: A Small but Mighty Downtown on the Banks of the Old Raritan
By Rebecca Hersh
Executive Director, Main Street Highland Park

September 10, 2022
A short walk over the bridge from New Brunswick and Rutgers University, Highland Park is a shining example of what can be done on a shoestring budget with a committed group of volunteers, local officials, and a tiny Main Street staff.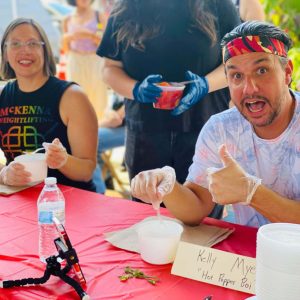 In the past decade, downtown Highland Park has acquired a "fun, funky, and vibrant" ambiance thanks to the efforts of Main Street Highland Park, the Borough, a team of dedicated volunteers, and many of the downtown's small businesses.
"Our special events have made Highland Park a destination – allowing us to weather the pandemic and continue to come to life post-pandemic better than ever," says Jenni Chapman, board member of Main Street Highland Park and owner of a local gift shop that maintains its presence in town thanks to the weekly special retail venues, including the Farmers Market, Saturday night markets, holiday markets, and ongoing special programming.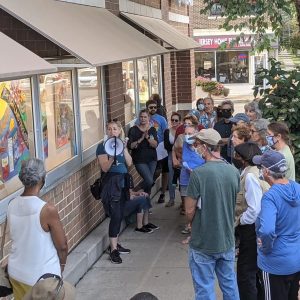 Throughout the year, there is always a downtown activity to boost the spirits of the residents and the bottom line of the retailers in this town that is less than two square miles in size with a population of about 15,000.  Major events include Arts in the Park – a major arts and crafts juried show and street festival; a 5K family fun race followed by a street fair with vendors and entertainment; a Window Art Walk featuring works of local artists displayed in the windows of downtown businesses; the "Highland Park Outdoor Movie Theater," a volunteer-curated outdoor movie series offering free movies on Saturday nights throughout the spring, summer, and fall; a permanent food cart named the "Taco Time Machine," built by local resident and Rutgers faculty Brian Onken, that serves tacos at some of the market events and the outdoor movies; and a beloved weekly farmers market for nine months of the year that features not only the Jersey Fresh goods of local farmers, but also food trucks, music, arts and crafts vendors, and often special added attractions like a pumpkin carving contest, pie contest, hot pepper eating competition.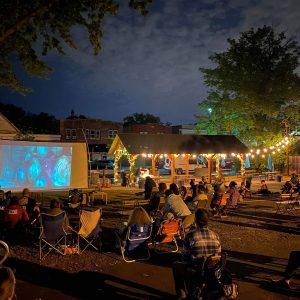 Also attracting statewide attention has been a new mobile bookstore, the creation of local resident and Rutgers creative writing faculty Alex Dawson. His Rac-On-Tour bookmobile truck lives in the downtown public market lot where most of the downtown events take place.
"I live in Old Bridge and go to Farmers Markets throughout the state. The Highland Park's Farmers Market is the best of them all – it is just a fun happy environment layered onto excellent produce and local products. And when I come, I always take the opportunity to get a manicure downtown too," says market patron Beth Rubin.
The artistic character of the community has been enhanced by the addition of several murals decorating the outside walls of buildings in the downtown. Music also permeates the air on a regular basis with outdoor performances Pino's, the local pub, wine and gift shop, and performance venue; on various street corners in the downtown; and in the outdoor market space, a municipal parking lot that has been transformed into a part-time de facto town square.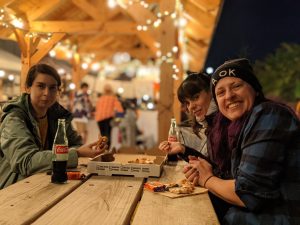 In fact, in 2019, Main Street Highland Park was the recipient of a $25,000 grant from the New Jersey Department of Community Affairs (DCA) to help revamp and improve this municipal parking lot so it could be more easily used as public space. The project included construction of a large wooden pavilion, picnic tables, lighting, electricity, surface paving, new bicycle racks, and a bicycle repair station.
The lot is much more than a parking lot — it essentially functions as our community gathering space for many events throughout the year. Our town does not have any other public gathering space downtown, and as a result, a wide variety of events happen in this space, including the weekly farmers market, outdoor movies, downtown planting days, the tree lighting, the menorah lighting, Halloween festivities, an arts and crafts market, live music, and more.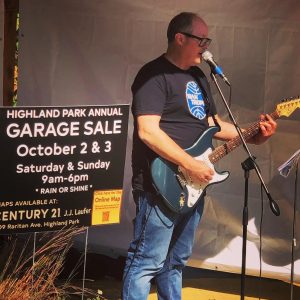 "This modest project has already had a huge impact in the center of our town," said Highland Park Mayor Gayle Brill Mittler. "We've created a more attractive and friendly space for our downtown activities, draw more people to our downtown, and help us to strengthen our community-building efforts. Having this outdoor space, which was completed just before the pandemic began, was a life saver during the pandemic, as it provided extra space for people to gather more safely outdoors."
Main Street Highland Park's goal is to improve the vitality and resiliency of our downtown for our local businesses and the community at large. This project will continue to invest in the economic development that will help our town thrive, and continue to foster a walkable and bikeable town that improves local business activity, improves public health, and improves the environment.
Main Street Highland Park (MSHP) is a volunteer-based non-profit community development organization that manages the downtown Business Improvement District (BID) for the benefit of merchants, businesses, and residents of Highland Park. As a dedicated advocate for the downtown, MSHP's programs and projects improve the image of downtown Highland Park, focusing on its commercial assets, visual appeal, safety, and desirability as a destination for business, shopping, dining, fun, community, arts, and sustainability.
More information at https://www.mainstreethp.org/, or follow them @MainStreetHP on Facebook, Instagram, and Twitter.