Shop, Dine, and Discover Downtown Haddonfield
Susan Hodges
Chair, Partnership for Haddonfield
September 19, 2019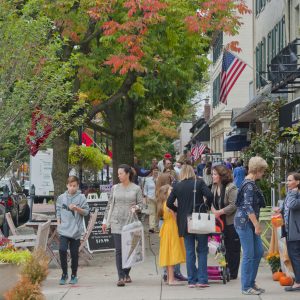 There are several great reasons to visit Downtown Haddonfield, located in Camden County, just 20 minutes from Philadelphia.
The downtown's 200 shops, inviting eateries, sculptures, historic sites and dramatic streetscape make it one of the most fabulous places to spend the day. Settled into well-preserved Colonial buildings and located along the picturesque, tree-lined main and side streets, Haddonfield's independently-owned shops offer beautifully displayed merchandise with friendly customer service.
Visitors may also enjoy delicious creations at one of Downtown Haddonfield's many restaurants, where they can find an incredible array of options – including quaint coffee and ice cream shops; and chef-owned restaurants offering an international range of cuisine choices.
The Partnership for Haddonfield (PfH) oversees the Downtown business district. The mission of the PfH is to provide leadership that produces the finest downtown by creating and promoting a superior business mix and enhancing the image of Haddonfield in the marketplace. The PfH offers grant programs to attract retailers/restaurants and sponsors business networking events.
To promote the diverse membership of Haddonfield's professional business community, the PfH created the Haddonfield Professionals Committee. This Committee is composed of established Haddonfield business people who volunteer their time and experience. PfH's Professionals Committee holds monthly networking functions for those employed at any of Haddonfield's service or professional businesses and surrounding areas.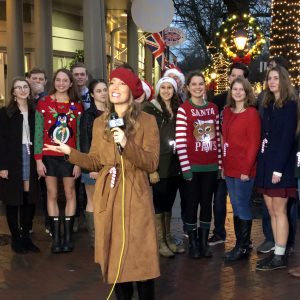 The PfH also maintains and promotes the DowntownHaddonfield.com website and social media platforms, actively markets the Downtown, and organizes a full calendar of special events held throughout the year. These events attract thousands of visitors to the Downtown. Signature annual events include the 'Haddonfield Night Market' Food Truck Festival, Crafts & Fine Art Festival, Girls Night Out!, Fall Festival & Craft Show, Small Business Saturday Weekend and Candlelight Shopping, as well as many others.
Thus far in 2019, The PfH has welcomed 12 new businesses to its award-winning downtown district, resulting in an occupancy rate of over 95%. Each business is independently owned, eclectic and a perfect fit for this one-of-a-kind shopping and dining destination.
In 2019, the PfH and its public relations agency of record, Suasion Communications Group, received a 2018 New Jersey Tourism Excellence Award from the New Jersey Tourism Industry Association (NJTIA) in the category of Digital Outreach. This prestigious award recognized the robust 2018 social media campaigns for the Downtown's Facebook, Instagram, and Twitter pages that communicate Haddonfield's position as the place to be.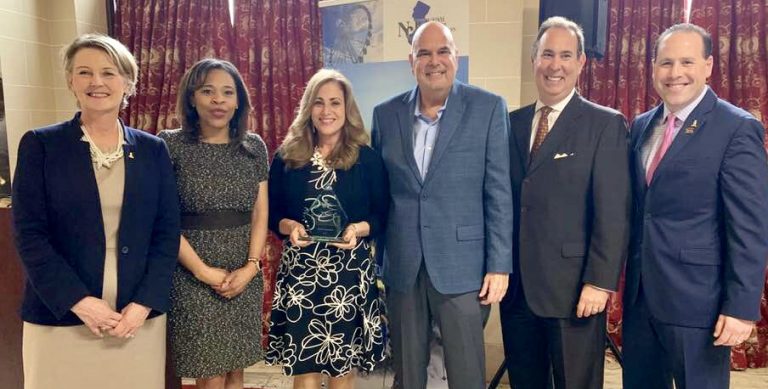 The PfH and Downtown Haddonfield have received numerous prestigious awards and accolades over the years. Downtown Haddonfield was named one of the top 'Best Historic Small Towns' by USA Today in both 2019 and 2018, and the 'Most Charming Small-Town in New Jersey' by Reader's Digest in 2018. In 2015, Movoto.com recognized the Borough of Haddonfield as one of the 10 Best Philadelphia Suburbs in which to live; South Jersey Magazine named Downtown Haddonfield's signature shops and restaurants among 2015 'Best of the Best'; New Jersey Monthly Magazine named Downtown Haddonfield as one of the 'Top Downtowns'. Additionally, Philly Voice named Downtown Haddonfield as one of South Jersey's Top Towns for Philadelphia Commuters, Best Main Streets You Must Visit, and Top South Jersey Destination for Shopping.
In addition to unique shopping and dining, Downtown Haddonfield also offers the region's top, award-winning professional and service businesses. Haddonfield's unique variety of specialized professional services and businesses include: architects, engineers, retailers, attorneys, health care, real estate, culinary, marketing, animal grooming, hair salons, health/beauty, and finance professionals as well as building contractors, bankers, photographers, travel agents, and many more.
Haddonfield is also rich in early American history. Visitors are encouraged to explore history starting at The Indian King Tavern Museum. The museum is located where the NJ General Assembly ratified the Declaration of Independence in 1777. Today the Tavern Museum is recognized as a Historic Landmark and is on the National Register of Historic Places.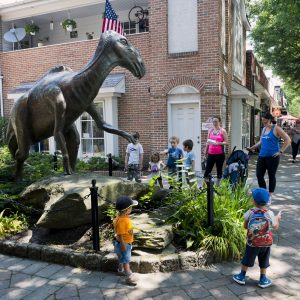 For the art lover, Haddonfield offers public/private outdoor art exhibitions that populate Downtown locations with contemporary outdoor sculptures and statues. One of these must-see statues is Haddy, the eight-foot-high statue of a Hadrosaurus Foulkii dinosaur, located in center the shopping district. The statue commemorates the 1858 discovery of the world's first complete dinosaur skeleton near the very spot where it was found.
Haddonfield is just a ten-minute ride from both the Ben Franklin and Walt Whitman bridges, and there is also a PATCO station located in the downtown.
You will want to return often to see what's new!
For more information on Downtown Haddonfield, visit DowntownHaddonfield.com or call 856-216-7253.