Have You Met Newark?
Emily Manz
President, EMI Strategy
Co-Founder, Have You Met Newark Tours
January 8, 2019
For the sixth season in a row, Have You Met Newark Tours Shop Hop attendees took to the streets in Newark to spend their money.
Have You Met Newark Tours is a tourism company run by Emily Manz, a new Downtown New Jersey member and owner of consulting firm EMI Strategy. For the past six years they have run a variety of tours – neighborhood walking tours, food tours, corporate orientation tours, and bus tours, and of course, the Annual Holiday Shop Hop.
The Shop Hop is a retail focused tour with the primary goal to expose residents and visitors alike to independent downtown retail options, literally drive foot traffic to downtown businesses, introduce business owners to potential customers, and increase small business sales around the holidays through pre-event marketing, day of event visits, and post event sales. The long-term goal is to create new consumer behaviors and increase the number of residents and visitors choosing to spend their money in downtown businesses to meet their retail, restaurant, service, and entertainment needs.
As Melody Warnick puts it in her book, "This is Where You Belong," (a book I highly recommend for all downtown and Main Street enthusiasts) "Shopping locally is a concrete way to help your town thrive economically and to improve your own quality of life where you live."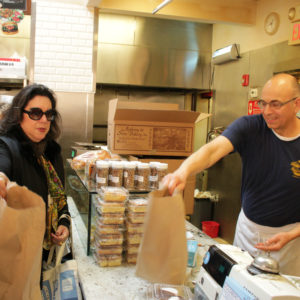 On the recent Have You Met Newark Shop Hop, individuals sampled mini cupcakes with flavors like Sweet Potato and Red Velvet at Tonnie's Minis, purchased hats and chatted with three generations of Dan's at Dan's Hats & Caps, browsed sparkling clutch purses at Off the Hanger, flipped through art at Gallery Aferro's Art Shop, rubbed raw shea butter from a large vat on their hands at Ancient African Formula, and browsed displays of terrariums at Fern & Fossil. At the end, everyone had a bag – a fun moment captured with a photo at the end of each Shop Hop.
Shops that participate can give out promotional materials, collect email addresses via clipboard or by offering a raffle, promote a new product or service, or create an experience in their store by handing out a small glass of wine.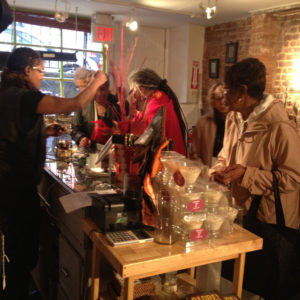 Not only is the Shop Hop fun and informative for those who attend; but by taking a ton of photos to share on social media, we ensure others can see our holiday finds!
EMI Strategy only creates experiences in downtowns that leverage the existing business community and assets; whether that be restaurants, bars, stores, historic sites, art galleries, or a mix of all five. If we are going to spend time working to bring people into a downtown to shop – we want the money to multiply!
While we may not talk about the local multiplier effect while we're sipping lattes at Newark's Black Swan Espresso, sampling sushi at Lee's Asian in Millburn, or enjoying a cold michelada at Tracksides in downtown Bound Brook – it's at the heart of everything we do.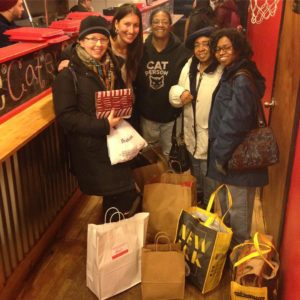 In the Chapter 'Buy Local' of Warnick's book she notes, for instance, that people who own community businesses often reciprocally support other local business owners. On our Shop Hop in Newark, we'll often run into fashion designer and boutique owner Marco Hall walking down the street from Halsey Fabrics with new fabrics for his creations – an incredible local economic loop if I ever saw one!
I believe every place has the ingredients to create a unique experience in their downtown. Done well, shoppers will leave these experiences with new products, new information on where to find goods and services, and new friends!
Emily Manz is President of EMI Strategy and Co-Founder of Have You Met Newark Tours. She is a member of Downtown NJ and on the Executive Board of the Northeast Economic Development Association. She can be found on Instagram at @placecelebrating.