Danielle Russell
Creative Placemaking and Communications Manager, Commercial District Services LLC
February 5, 2021
Commercial District Services (CDS) is a full-service public space planning and management organization providing services to many of New Jersey's improvement districts, parks and other public spaces.  CDS currently manages several Business Improvement Districts in some of New Jersey's busiest cities including several in Newark and Jersey City.
As the COVID-19 pandemic was creating unprecedented public health and economic pressure across the state, Commercial District Services responded by helping districts rise to the challenge; offering heightened sanitation services, creating access to COVID testing, and providing financial support to local businesses and community members.
Jersey City: Journal Square SID and West Side Avenue SID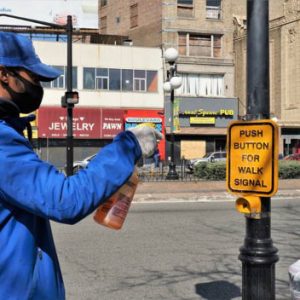 Commercial District Services was able to quickly augment the Clean Team Ambassador program by equipping ambassadors with masks, gloves, and disinfectant sprays to focus on the sanitization of high-touch areas and public amenities like parking meters, garbage cans, benches and other public seating areas.
"One of the basic ways that we can support commerce in our district during the pandemic is to make sure customers feel safe and see that steps are being taken to ensure the highest level of cleanliness that is possible," said Rudy Kucukyantiran, Director of Operations for the Journal Square Special Improvement District.
Through a key partnership with the City of Jersey City, Partnership for a Healthier Jersey City and Prestige Solutions, Jersey City's Journal Square Special Improvement District and West Side Partnership were able to provide mobile COVID testing centers for District business owners, their employees and City residents. These additional testing centers have been crucial to meeting the increased testing demand in Jersey City's busy urban centers.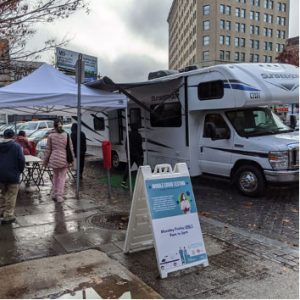 As restaurants and eateries adapted to bringing their business outside, so did the need to navigate the processes of obtaining the required permits and implementing outdoor seating areas. The West Side Partnership was able to work with business owners to facilitate the creation of supplemental seating. The parklet at the Tree House Coffee shop on West Side Avenue was provided through the advocacy efforts of the West Side Partnership and was installed by the City of Jersey City. Local artist "Mr. Mustart" was recruited to provide some added creativity to the project.
Creating and maintaining strong community bonds has become more crucial during the on-going crisis.  As shutdowns, travel restrictions, and stay-at-home orders have kept communities distant, opportunities to organize safe programming to support social cohesion has become invaluable.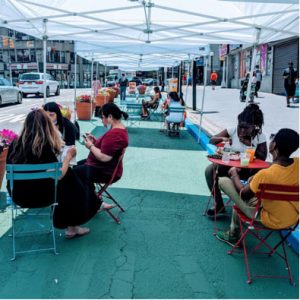 The Journal Square Special Improvement District transformed what was previously a bus lane on Bergen Avenue to an outdoor dining area to support its local businesses and provide socially-distanced seating and tables for local residents and workers.  The outdoor seating area became an immediate hit, with utilization far exceeding what was originally anticipated. To accommodate more customers the Journal Square SID added additional seating across the street from the streatery and a food truck space was added to meet the need for more fast and convenient food options in the district. The 'Streatery' is sanitized regularly through the organization's street team ambassador program. 
Newark: Mt. Prospect Avenue SID and Bloomfield Avenue/Lower Broadway BID
In Newark's North Ward, ambassadors from the Bloomfield Avenue/Lower Broadway Alliance and the Mt. Prospect Partnership focused efforts on their high-traffic commercial corridors to support essential shopping. With people home during the pandemic, trash builds up faster than ever before. Both districts in the North Ward saw a 20%-30% uptick in the amount of trash being created during normal business hours. In response to the increase in trash, CDS expanded its use of trash compactor trucks so that more trash pick-up routes could be done within a shorter period of time.
Information and assistance with federal, state, and local funding sources was made available to businesses, and further support for local business owners was made possible through programs such as the Mt. Prospect Partnership's voucher program. The program, which was done in partnership with local elected officials, raised more than $20,000 and provided those who became recently unemployed with the opportunity to receive funds for crucial food and childcare items while shopping at local businesses.
The Mt. Prospect Partnership also partnered with local elected officials and business owners in Newark's North Ward to donate $5,000 to the food banks of Our Lady of Good Counsel, St. Michael's Pantry and Bethel Church before Christmas.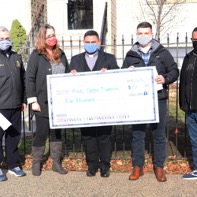 While many regularly scheduled events were cancelled this past year, the Bloomfield Avenue/Lower Broadway BID and the Mt. Prospect Partnership were able to adapt and carry out important programming throughout the year. Quarterly community meetings that would have normally taken place indoors were moved to the outdoors.
In October, the Bloomfield Avenue/Lower Broadway Alliance held a socially-distanced, outdoor roundtable for business owners in partnership with the Newark Police Department, Invest Newark and the Central Ward Council office. The meeting allowed business owners to express their needs, connect with local elected officials, and get access to information on critical business support resources.
Recent holiday programming also looked a lot different. While Newark's Mt. Prospect Partnership and Bloomfield Avenue/Lower Broadway Alliance typically host large-scale holiday gatherings; this year's celebration took place through a digital platform. Both organizations were able to host a live Holiday Tree Lighting through their respective Facebook pages to spread a bit of holiday cheer to their communities at a much-needed time.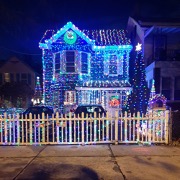 The Mt. Prospect Partnership was also able to host their beloved annual Holiday Decorating contest allowing community members to participate by entering online and still enjoy safely decorating their homes.
The health and ongoing success of New Jersey's communities will take on-going collaboration by business improvement districts and community partners. Commercial District Services will continue to create the necessary access to services and resources for these organizations to respond to the COVID-19 pandemic, plan, program, and manage public spaces for the future.
Danielle Russell holds a Masters of Science in Urban Placemaking & Management from Pratt Institute. Ms. Russell anchors CDS's placemaking and place management activities focusing on the design and implementation of supplemental seating areas, activating public spaces, advocating for inclusivity in planning public spaces, and elevating the voices of those within the communities where CDS serves. 
Commercial District Services is a New Jersey based firm that specializes in all facets of public space management with a staff of accomplished professionals who support public and private stakeholders in the critical conversations and community planning needed to create real change. Working with non-profit organizations as well as municipal entities and private developers, CDS empowers clients with the knowledge and skills to transform their communities.  For more information, visit www.publicspaces.com.