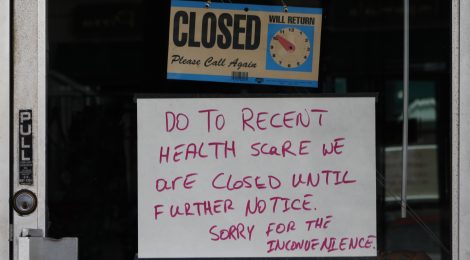 Courtenay D. Mercer, PP, AICP
Executive Director, Downtown New Jersey
March 16, 2020 (with rolling updates)
Downtown New Jersey acts as an advocate for downtown commercial districts in New Jersey, tracking legislative, regulatory, and policy issues that can affect the success of the state's downtowns and then informing and educating members on these issues.
We will post important updates here related to legislative and policy initiatives in response to COVID 19, as well as resources from peers and experts. Things are moving fast, so we are adding information regularly – be sure to hit refresh each time you visit to make sure you see the latest updates.
Resource Table of Contents (click to jump to section)
DNJ Forums
Downtown New Jersey is providing a series of virtual opportunities for downtown managers, economic development professionals, and public officials to exchange ideas about best practices related to downtown economic development in light of the COVID-19 crisis. Exchanges are occurring both via a Facebook Group and a series of scheduled live online web forums. More information>

March 27, 2020 – Downtown Management Forum: COVID-19 Policy Discussion
April 3, 2020 – Downtown Management Forum: Survival Marketing Workshop (small businesses encouraged to join)
April 17, 2020 – Downtown Management Forum: Post COVID-19 Retail RE Market
NJ Resources
NJ Administrative Action
Treasury Freezes Nearly a Billion Dollars in Spending as Fiscal Uncertainty Over COVID-19 Mounts (March 32, 2020)
The State of NJ "placed over $900 million in items of appropriation into reserve in order to ensure sufficient cash and budget authority to meet emergency and statutorily required obligations", including funds for EDA Grant Programs, the Homestead Rebate Program, Municipal Aid Programs, and School Aid. In addition, the freeze includes discretionary funds, 50% of special projects, and 50% of all other dedicated funded programs. The implications of these freezes are still be determined, but of particular concern are existing funds allocated to Main Street New Jersey and the Neighborhood Preservation Program.
Governor Murphy Announces Statewide Stay at Home Order, Closure of All Non-Essential Retail Businesses (March 21, 2020)
Governor Phil Murphy signed Executive Order No. 107, closing all non-essential businesses and directs all residents to stay at home except to obtain essential goods or services, seek medical attention, visit family or close friends, report to work, or engage in outdoor activities. Essential businesses include:

Grocery stores, farmer's markets and farms that sell directly to customers, and other food stores, including retailers that offer a varied assortment of foods comparable to what exists at a grocery store
Pharmacies and medical marijuana dispensaries
Medical supply stores
Gas stations
Convenience stores
Ancillary stores within healthcare facilities
Hardware and home improvement stores
Banks and other financial institutions
Laundromats and dry-cleaning services
Stores that principally sell supplies for children under five years
Pet stores
Liquor stores
Car dealerships, but only for auto maintenance and repair, and auto mechanics
Printing and office supply stores
Mail and delivery stores
Restaurants can continue serving the public through take out and delivery only
Mobile phone retail and repair shops (expanded 3/24)
Bicycle shops, but only to provide service and repair (expanded 3/24)
Livestock feed stores (expanded 3/24)
Nurseries and garden centers (expanded 3/24)
Farming equipment stores (expanded 3/24)

The Executive Order continues the existing provisions that:

Closed all schools until further notice
Closed all casinos, concert venues, nightclubs, racetracks, gyms, fitness centers and classes, movie theaters, and performing arts centers until further notice
Closed all indoor retail shopping malls, amusement parks, and amusement centers until further notice
Closed all personal-care businesses and social clubs which cannot comply with social distancing guidelines until further notice, including barber shops, hair salons, spas, nail and eyelash salons, tattoo parlors, etc. until further notice
Limited all restaurants to delivery and/or take out-services only

In addition, Executive Order No. 108 states that municipal and county orders cannot conflict with Executive Order No. 107 (described above)  except that they may choose to apply stricter restriction for:

Parks under their jurisdicion
Online lodging marketplace (e.g. AirBNB, VRBO, etc.) 

Executive Order No. 109 cancels all elective surgeries or invasive procedures scheduled for after 5:00 p.m. on Friday, March 27, 2020. 
NJ Programs & Resources
(Below are existing programs to assist downtowns and/or small businesses. We will provide updated information as economic relief programs come on line. See "NJ Legislation" below for information about pending bills.)
NJ Legislation
DNJ is reviewing legislation as it comes in and will post updates to this page as things progress… 
P.L.2020, c.8 (A3845/S2284): Authorizes EDA to make grants during periods of emergency declared by Governor and for duration of economic disruptions due to emergency; allows EDA to grant certain business documentation submission deadline extensions.
This bill authorizes the New Jersey Economic Development Authority (NJEDA) to provide grants during periods of emergency declared by the Governor for the planning, designing, acquiring, constructing, reconstructing, improving, equipping, and furnishing of a project, including, but not limited to, grants for working capital and meeting payroll requirements. The bill also extends the uses of the economic growth account in the Economic Recovery Fund to small and medium-size businesses and not-for-profit corporations. Finally, the bill extends the deadline for Grow NJ projects. The legislation passed both houses and was signed by Governor Murphy on March 20, 2020.
P.L.2020, c.9 (A3848/S2301): Concerns time off from work in connection with infectious disease.
The bill prohibits an employer, during the COVID-19 State of Emergency declared by the Governor in Executive Order 103, from terminating or refusing to reinstate an employee if the employee requests or takes time off from work based on the recommendation from a medical professional because the employee has, or is likely to have, an infectious disease. The legislation passed both houses and was signed by Governor Murphy on March 20, 2020.
P.L.2020, c.16 (A3865/S2291): Limits return of items purchased from retail food stores under certain circumstances.
The bill prohibits retail food stores to accept returns of any groceries  purchased during the state of emergency declared in response to COVID-19 and for 30 days following. The legislation passed both houses and was signed by Governor Murphy on March 20, 2020.
A3841/S2300: Automatically extends time to file gross income tax or corporation business tax return if federal government extends filing or payment due date for federal returns.
The bill extends gross income tax or corporation business tax return filing to federal deadline (currently July 15, 2020). The legislation passed the Assembly on March 16, 2020 and the Senate on March 19, 2020. It has not yet been approved by Governor Murphy.
A3846/S2293: Creates "Temporary Lost Wage Unemployment Program;" allows persons to claim for lost wages due to coronavirus disease 2019, and employers to pay wages to workers ordered under quarantine by licensed healthcare practitioner; appropriates $20,000,000.
The bill provides provide, to the extent funds are available, monetary relief to individuals for actual lost wages in an amount that is equivalent to the individual's average weekly rate of compensation from the past calendar year, if the individuals do not have fully paid leave and to employers who pay wages to workers who are ordered under quarantine by a licensed healthcare practitioner as a result of coronavirus disease 2019. There will also be moneys, not to exceed $10,000,000, to pay the lost wages of individuals due to (1) the individual's absence from work due to the need to care for a family member; (2) the individual's absence from work due to the illness of the individual; (3) the individual's absence from work due to school or childcare facility being closed; and (4) for such other purposes as determined by the commissioner. The legislation passed the Assembly on March 16, 2020 and the Senate on March 19, 2020. It has not yet been approved by Governor Murphy.
S2304/A3900: Concerns family leave and disability benefits during epidemic-related emergencies.
The bill makes a COVID-19 illnesses (or suspected illness) eligible for earned sick leave and disability insurance, as well as the care of a family member with COVID-19 illnesses (or suspected illness) an eligible reason for family leave protections. and The legislation passed in the Senate on March 19, 2020 and was referred/introduced to the Assembly on March 23, 2020.


A3844: Concerns business interruption insurance during coronavirus disease 2019 state of emergency.
The resolution indemnifies the insured of businesses with less than 100 eligible full-time employees for any loss of business or business interruption for the duration of  a declared State of Emergency. The insurer may apply to the Commissioner of Banking and Insurance for relief and reimbursement of such claims. The Emergency Resolution was introduced and passed by the Assembly on March 16, 2020. So far, it has not moved further in the legislative process.
Federal Resources
Legislation
Menendez Highlights Key Components of COVID-19 Combat Package (InsiderNJ/March 25, 2020)
Components relevant to downtowns and small business:

$150 billion in state and local government stabilization fund
$377 billion in forgivable loans and grants to small businesses and non-profits
Extended and expanded unemployment benefits
Funding Resources
Other Informational Resources
Local Initiatives
Is your town implementing innovative initiatives to help your small businesses? Let us know, and we'll share the information here.
Other Resources
Main Street America Resources
Other Informational Resources
Funding Resources (Private & Non-profit)