Metuchen: The Brainy Borough's 'Overnight' Success
By Jay Muldoon
Metuchen Interim Borough Administrator
Metuchen Downtown Alliance Board Member
Sept. 15, 2017
The fast-moving revitalization of Metuchen that's been occurring lately makes the so-called Brainy Borough feel like an overnight success story. However, it's an overnight success that's been decades in the making. 
About $100 million of commercial investments are being made in Metuchen these days, including 400 new housing units, a new Whole Foods Market, a CVS drug store, and tens of thousands of square feet of additional retail space. The boom is the culmination of years of strategic urban planning that included the adoption of a Complete Streets program, the creation of a Business Improvement District and downtown management organization called the Metuchen Downtown Alliance, and an ongoing dialogue with residents, business owners, and civic organizations in a close-knit community where every voice is valued.
"Downtown is very vibrant right now," Mayor Peter Cammarano recently told the Home News Tribune. "It's an exciting time for the borough and everyone wants in."
The cornerstone of the efforts is a new, award-winning luxury apartment and retail development called Woodmont Metro at Metuchen Station, just across the street from a new Whole Foods slated to open in October.
Other downtown retail and apartment projects are also in the works, and together they'll create a vibrant new neighborhood called the District. Including both new construction and renovations, the designs for the District feature tasteful and classic building facades using red brick and other traditional materials that augment the historic feel of Metuchen's downtown. Woodmont Metro was the catalyst that attracted the rest of the investments. The complex is the result of a years-long effort to capitalize on one of Metuchen's greatest assets: a train station on the Northeast Corridor line that connects commuters directly with New York, Newark, New Brunswick and Trenton, and via PATH with Jersey City.
Woodmont was built on the site of a Metuchen Parking Authority-owned parking lot located adjacent to the train station's platforms. Woodmont Properties won the contract in 2012 by incorporating the needs of the community in its designs. The project includes a 750-car parking deck operated by Nexus Parking, tucked away behind the retail and residential buildings. Construction of the garage was helped by state and federal stimulus funds.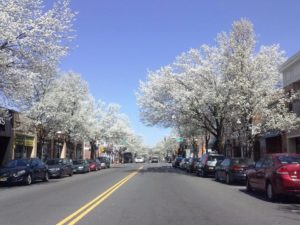 Thanks to a county open-space grant, the complex also includes a plaza that will serve as a public green for the whole town – perfect for Metuchen's outdoor farmers' market, concerts and other special events.  In addition to luxury apartments, a large swimming pool, fitness center, billiards room and other amenities complete a resort-like feel at Woodmont attractive to Millennials and empty-nesters alike.
As new residents began to sign apartment leases, about 50 new businesses have opened in Metuchen in the last two years, according to Isaac Kremer, executive director of the Metuchen Downtown Alliance (MDA). Existing businesses are gaining customers and value, too. Several businesses have been sold to new owners who are investing in store renovations and expanding offerings. The MDA is also focused on "knitting together" the new development with the existing businesses on Metuchen's vibrant Main Street.
In addition to Whole Foods, the influx of new residents has helped attract Leonardo Jewelers, Massage Envy and other service businesses. CVS, Jersey Mike's subs, and Frutta Bowls will be opening soon in downtown Metuchen.
"Each of those new residents spends about $7,000 downtown," Kremer says. "We're looking at as much as a $30 million boost per year — if not greater — to our retail spending downtown." When exactly did this "overnight success" story start? One could argue it was as far back as the 1980s, when urban designers from Rutgers created a revitalization plan and the borough changed its zoning to keep retail clustered downtown and prevent the "strip-malling" of residential neighborhoods. Remarkably, the borough's retail is still concentrated downtown, even as strip malls are added – but added in a manner that allows them to fit right into vacant lots in order to maintain the character of the pedestrian-friendly downtown. Of course, local history buffs can argue this overnight success story began a century or two ago, when gorgeous Colonial and Victorian-era homes and storefronts were built.  After all, many of these are still landmarks, lovingly restored and updated by young families and business owners.
So perhaps the key to this overnight success story is the fact that Metuchen has been a success all along, and redevelopment is being accomplished in ways that complement — rather than compete with — its quaint, timeless charm.
There are plenty of lessons for urban planners to take away from Metuchen's experience. Leverage your municipality's assets and what's unique about your town; don't try to emulate some other town. Honor your town's traditions and history, but don't be limited by them.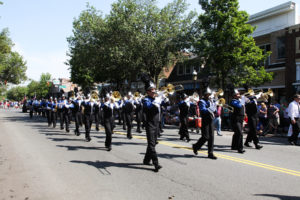 "In many ways, the development happening in Metuchen now is really just re-completing Metuchen," says Tyreen Reuter, director of the Metuchen Chamber of Commerce. In addition to the new projects, she says, "We've got the footprint of our historic Main Street and a fair number of intact, or salvageable, buildings. Metuchen is now seizing upon the opportunity to re-invigorate its commercial face. We can have a renaissance rather than a replacement."
The New York Times recently wrote about Metuchen that the town "basks in its exceptionalism." That's true now more than ever, as the Brainy Borough enjoys its "overnight success."