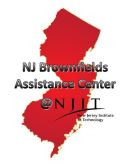 Colette Santasieri, PhD
Executive Director, NJ Brownfields Assistance Center @ NJIT
October 15, 2020
This is just the first in a series of articles the NJ Brownfields Assistance Center will be producing for Downtown New Jersey readers. The next article will cover navigating the NJ regulatory process – in plain language. It will help you to understand the steps a contaminated site goes through to be put back into productive reuse can be daunting. 
Got Brownfields? There aren't many municipalities in New Jersey that don't have these former commercial and industrial properties that are either contaminated or perceived to be contaminated. NJ's municipalities now have a free resource to help them overcome the challenges brownfields pose to our communities. The NJ Brownfields Assistance Center @ NJIT is the first-of-its-kind center that solely focuses on and serves New Jersey.  
So why does New Jersey need a brownfield assistance center? Our state was a prominent leader in the industrialization of the United States. Our cities and small towns alike contributed to our industrial productivity. When New Jersey experienced an economic shift and urban exodus beginning in the mid 1950s, industries, factories, warehouses, mills, and rail yards that were once part of our state's economic and historic fabric either moved out of state or became obsolete. Abandoned industrial sites, as well as soil and water contamination, remained. These sites, otherwise known as brownfields, are a byproduct of our industrial legacy. Additionally, the closed gas stations, dry cleaners, old banks, and other vacant commercial properties in NJ's downtowns are also brownfields.  
New Jersey has always been a state with immense opportunities, and while these industrial legacy and commercial sites plague our communities, the redevelopment of brownfields are unique opportunities in NJ's downtowns – to spur economic development, generate jobs, increase property values, reduce sprawl, and develop community needed land uses such as mixed use development, retail, and health care facilities, to name a few.  
Unfortunately, most local governments do not have the in-house knowledge or expertise to advance these sites through the assessment, cleanup, and redevelopment processes. Many communities have either no, or limited resources, including funding. These challenges are compounded by weak real estate markets being experienced in many of our communities. The process of assessing, cleaning up, and redeveloping a brownfield site can be complicated. That is why NJIT created the NJ Brownfields Assistance Center @ NJIT – to help communities overcome their brownfield hurdles, advancing these properties towards the redevelopment finish line. 
The NJ Brownfields Assistance Center @ NJIT's team of planners, engineers, environmental scientists, and social scientists brings tools, strategies, resources, partnerships, subject matter experts, and education to brownfields-challenged communities to help transform these sites into community assets. The Center educates and engages communities about brownfield issues, and it provides free "help desk" assistance and guidance to any county and municipal government.  
For more information about the NJ Brownfields Assistance Center @ NJIT, contact Colette Santasieri, PhD, Executive Director, at santasieri@njit.edu. For NJ county and local government entities seeking free brownfields guidance, contact njbrownfields@njit.edu. Visit them at: www.njit.edu/njbrownfields or on Twitter @njbrownfields 
---
The  NJ Brownfields Assistance Center @ NJIT is teaming up with the Together North Jersey Training Institute to present the Brownfields Blueprint Webinar series in November.