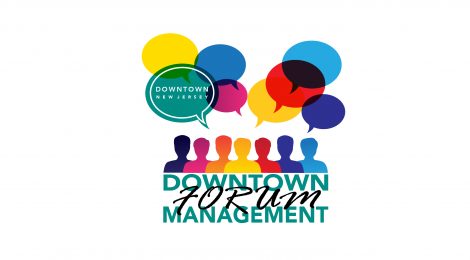 Downtown New Jersey is providing a series of virtual opportunities for downtown managers, economic development professionals, and public officials to exchange ideas about best practices related to downtown economic development in light of the COVID-19 crisis. Check out the opportunities to interact with your peers below. Also, be sure to reference our COVID-19 Resource Page with rolling updates as new information, policy, legislation, and funding becomes available. 
The Downtown Management Forum series is an exchange of ideas about best practices in NJ's downtowns. The intended audience includes downtown management professionals, public officials, design professionals, and others involved with the management of downtowns.
Preparing for the Post-Pandemic: Part 2
Friday, March 5, 2021 @11:00AM
via Zoom
Join NJ Department of Community Affairs' Jef Buehler as he discusses best practices during a virtual walkthrough of downtown Frenchtown. During Part 2 of this two-part session, Jef will share experiences from Neighborhood Preservation Program initiatives throughout the state to highlight how communities can "Get Found" and "Be Open". This presentation will kick-off a dialogue among forum participants about how to prepare downtown for recovery.
Missed Part 1? Watch video>
What's next for the retail real estate market? One year later…
Friday, April 16, 2021 @11:00AM
via Zoom
It's been a year since we were joined by Marta Person Villa, NJ Retail Lead and Senior Vice President with Jones Lang LaSalle and a former SID director, municipal administrator, and DNJ President. Join us to see what's changed from the early days of the pandemic, and how that impacts "what's next" for your downtown to recover from economic upheaval. Marta will again share global recovery statistics showing current and imminent downtown retail occupancy conditions to map out a proactive recruitment strategy to expedite recovery.
Have a topic you want to hear more about? Email your suggestions to info@downtownnj.com.
Past Forums
Summaries, videos, PowerPoints and other resources
Facebook Group
Downtown New Jersey created a safe space for members and partners to exchange ideas about hot topics in downtown economic development. There are currently several feeds related to COVID-19 response.
Please note that you must answer the membership questions to be approved. We want to be sure only "real people" are joining, and we need to know who you are before we will approve your membership. Also, this group is is not intended for individual business owner participation, rather it is meant to be an exchange of ideas between those involved with the management of downtown business districts.