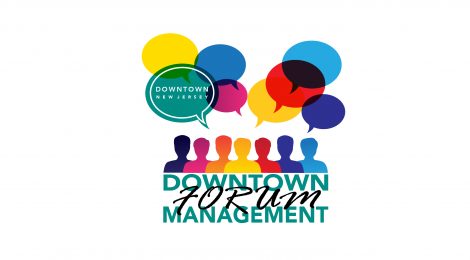 Downtown New Jersey is providing a series of virtual opportunities for downtown managers, economic development professionals, and public officials to exchange ideas about best practices related to downtown economic development in light of the COVID-19 crisis. Check out the opportunities to interact with your peers below. Also, be sure to reference our COVID-19 Resource Page with rolling updates as new information, policy, legislation, and funding becomes available. 
The Downtown Management Forum series is an exchange of ideas about best practices in NJ's downtowns. The intended audience includes downtown management professionals, public officials, design professionals, and others involved with the management of downtowns.
Winning Winter – Make Cash Registers Ring When the Temperature Dips
Friday, October 2, 2020
11:00AM via ZOOM
We do not anticipate significant indoor capacity increases in the near future; and even if they were forthcoming, many consumers still feel uncomfortable spending extended periods inside public places. With colder temperatures quickly approaching, downtowns should be preparing now to help their small businesses 
weather 
the Fall and Winter seasons. Accommodating, and even encouraging, outdoor consumer activities is not anything new – especially to those in colder climes. Your downtown may have even embraced the chill in years past by hosting a Winter Market or Winter Festival. During this forum, we will discuss best practices in placemaking to make your downtown inviting and comfortable during cold weather. The discussion will be led by 
Metuchen Downtown Alliance
 Executive Director, Isaac Kremer, and 
Storefront Mastery
's Storefront Ninja, Jaime Izurieta.
Winning Winter is the first in a two-part placemaking series. After your hear and exchange ideas at this forum, you will be challenged to implement an innovative placemaking approach in your own downtown. At the second forum during the Downtown New Jersey Conference in early December, your innovative placemaking projects will be highlighted as examples of best practices.
To ensure a secure virtual meeting, registration is required. Registrations are manually approved, so expect email confirmation of your with login information to be delayed. Please register at least 30 minutes prior to the forum.
Have a topic you want to hear more about? Email your suggestions to info@downtownnj.com.
Past Forums
Summaries, videos, PowerPoints and other resources
Facebook Group
Downtown New Jersey created a safe space for members and partners to exchange ideas about hot topics in downtown economic development. There are currently several feeds related to COVID-19 response.
Please note that you must answer the membership questions to be approved. We want to be sure only "real people" are joining, and we need to know who you are before we will approve your membership. Also, this group is is not intended for individual business owner participation, rather it is meant to be an exchange of ideas between those involved with the management of downtown business districts.