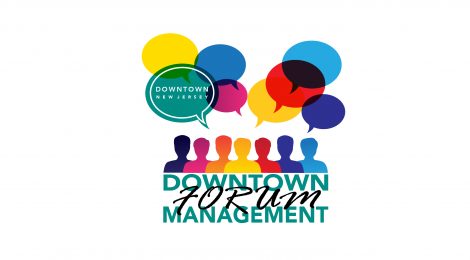 Downtown New Jersey is providing a series of virtual opportunities for downtown managers, economic development professionals, and public officials to exchange ideas about best practices related to downtown economic development. Check out the opportunities to interact with your peers below.
The Downtown Management Forum series is an exchange of ideas about best practices in NJ's downtowns. The intended audience includes downtown management professionals, public officials, design professionals, and others involved with the management of downtowns.
Countdown to the Plastics & Styrofoam Ban
FRIDAY, JULY 16 AT 11:00AM
VIA ZOOM
New Jersey businesses can start preparing now for implementation of a new law, which takes effect May 4, 2022, and ends the use of single-use plastic carryout bags and polystyrene foam food service products at retail stores and food service businesses. The use of single-use paper carryout bags will also be prohibited at grocery stores over 2,500 square feet. Plastic straws will be limited to by-request-only beginning Nov. 4, 2021. 
The NJ Business Action Center, the NJ Department of Environmental Protection, and the NJ Clean Communities Council are working together to help communities and businesses understand and comply with the law. Melanie Willoughby, Executive Director of the NJ Business Action Center, will present an overview of the law, a discussion of frequently asked questions, an easy-to-read chart explaining what businesses are affected and how to comply, and will showcase many other resources that are available at Business.NJ.gov to help you help your businesses. 
As always, all participants will be invited to join in a conversation about the topic after the main presentation. We hope you will come ready to ask questions and share your experiences with local plastic ban ordinances.
Recognizing the time and effort it takes our staff to organize these forums, we are now asking non-members to pay a nominal fee to participate. There will be a link in both the registration form & confirmation email to make a donation in support of our programming.
DNJ members are welcome to attend this forum for free as a part of your member benefits. If you are not sure about your membership status, please visit www.downtownnj.com/members.
Have a topic you want to hear more about? Email your suggestions to info@downtownnj.com.
Past Forums (2021)
Summaries, videos, PowerPoints and other resources
 Facebook Group
Downtown New Jersey created a safe space for members and partners to exchange ideas about hot topics in downtown economic development. There are currently several feeds related to COVID-19 response.
Please note that you must answer the membership questions to be approved. We want to be sure only "real people" are joining, and we need to know who you are before we will approve your membership. Also, this group is is not intended for individual business owner participation, rather it is meant to be an exchange of ideas between those involved with the management of downtown business districts.