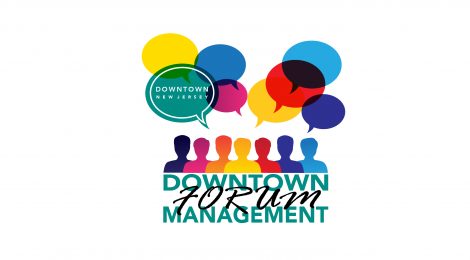 Downtown New Jersey is providing a series of virtual opportunities for downtown managers, economic development professionals, and public officials to exchange ideas about best practices related to downtown economic development. Check out the opportunities to interact with your peers below.
The Downtown Management Forum series is an exchange of ideas about best practices in NJ's downtowns. The intended audience includes downtown management professionals, public officials, design professionals, and others involved with the management of downtowns.
Recognizing the time and effort it takes our staff to organize these forums, we are now asking non-members to pay a nominal fee to participate. There will be a link in both the registration form & confirmation email to make a donation in support of our programming.
DNJ members are welcome to attend this forum for free as a part of your member benefits. If you are not sure about your membership status, please visit www.downtownnj.com/members.
Transforming Brownfields into Downtown Assets
FRIDAY, September 17 AT 11:00AM
VIA ZOOM
Abandoned industrial sites, as well as closed gas stations, dry cleaners, old banks, and other vacant commercial properties plague NJ's downtowns, but the redevelopment of these brownfields present opportunities to spur economic development, generate jobs, increase property values, and develop community needed land uses. Discover how to transform these properties into downtown assets.
Representatives from The NJ Brownfields Assistance Center @ NJIT will discuss how to plan for, fund, and redevelop these potentially contaminated properties, as well as where you can get free technical assistance.
As always, all participants will be invited to join in a conversation about the topic after the main presentation. We hope you will come ready to ask questions and share your experiences with brownfields.
Small Downtowns Can Do Economic Development Too!
Tuesday, November 16 AT 3:30PM
(at NJLM Annual Conference)
Don't let limited resources hinder your revitalization aspirations. Small downtowns can harness people-power, as well as leverage technical and financial assistance to do great things. Experts with boots on the ground will share best practices for big change in your small downtown. (This session is coordinated by Downtown New Jersey as part of the 2021 NJLM Annual Conference.)
Panelists:
Abbie Galie, Destination Medford
Mayor Paul Kanitra, Borough of Point Pleasant Beach
Tom Strowe, Scotch Plains Township
Melanie Willoughby, NJ Business Action Center
Moderator:
Courtenay Mercer, Downtown New Jersey
Have a topic you want to hear more about? Email your suggestions to info@downtownnj.com.
Past Forums (2021)
Summaries, videos, PowerPoints and other resources
 Facebook Group
Downtown New Jersey created a safe space for members and partners to exchange ideas about hot topics in downtown economic development. There are currently several feeds related to COVID-19 response.
Please note that you must answer the membership questions to be approved. We want to be sure only "real people" are joining, and we need to know who you are before we will approve your membership. Also, this group is is not intended for individual business owner participation, rather it is meant to be an exchange of ideas between those involved with the management of downtown business districts.