DNJ welcomes Courtenay Mercer as its new Executive Director
By Robert Goldsmith Esq.
President
Downtown New Jersey
March 1, 2018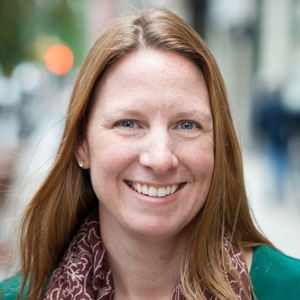 Courtenay Mercer joined Downtown New Jersey as its Executive Director at the start of 2018. As a former DNJ Board member, she steps into the role with extensiveness knowledge about the organization and its needs. Mercer is a professional planner with experience in redevelopment, economic development, and complete streets initiatives. She also knows something about non-profit management, having been President of the NJ Chapter of the American Planning Associations, treasurer of various non-profit organizations, and most recently, Executive Director of Preservation New Jersey.
"I'm excited to move into a different role within an organization I respect and value as a resource to downtowns", Mercer said. "I look forward working with the Board to expand our educational offerings and networking opportunities, and support DNJ's role as the go to source for information about downtown economic development and revitalization."
You may have already noticed our social media presence increase since Mercer became Director (and if you haven't, be sure to check us out @DowntownNJ on Twitter and @DowntownNewJersey on Facebook). Mercer has also been working with our Policy & Advocacy Committee to enhance our advocacy and information sharing efforts about legislative initiatives pertinent to downtowns. In addition, Mercer is working to organize Lunch & Learns that will provide additional educational and networking opportunities for our members.
"Courtenay is a seasoned professional – well known in the planning and development community", said DNJ President, Robert Goldsmith, Esq. "Her broad experience, professional networks, and managerial skills are an asset to the organization. We look forward to expanding our capacity to serve our members and NJ's downtowns under Courtenay's leadership."