April 30, 2019 – The Town of Westfield has committed to leading a community-wide, collaborative process to reexamine its master plan to address issues of land use, transportation and parking, housing, downtown economic development, community facilities and historic preservation. The Downtown Westfield Corporation is a part of this process, from having a seat on the Master Plan Steering Committee, to encouraging its members' involvement in the public engagement process established.
Read Article →

March 15, 2019 – More than 20 downtown managers, economic development directors and non-profit representatives gathered at round table discussion in Newark on March 15th to exchange ideas about hot topics in downtown economic development. The topic for this round table was funding for facade improvements and other downtown beautification initiatives.
Read Article →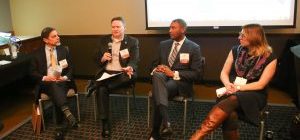 March 8, 2019 – DNJ's Courtenay Mercer moderated a panel at the NJ Redevelopment Forum talking about the history of regulating vices in New Jersey, and how changing social attitudes and economic incentives were changing the way vices were being viewed.
Read Article →