May 17, 2019 – For decades, New Jersey has experienced notable success with redeveloping many of its distressed areas by affording municipalities the ability to provide tax incentives to redevelopers (e.g. PILOTs). New legislation could negatively impact the value of this incentive.
Read Article →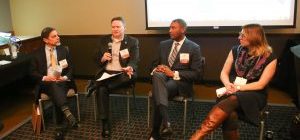 March 8, 2019 – DNJ's Courtenay Mercer moderated a panel at the NJ Redevelopment Forum talking about the history of regulating vices in New Jersey, and how changing social attitudes and economic incentives were changing the way vices were being viewed.
Read Article →

February 12, 2019 – Downtown New Jersey acts as an advocate for downtown commercial districts in New Jersey, tracking judicial and legislative issues that can affect the success of the state's downtowns and then informing and educating members on these issues.
Read Article →