Downtown Excellence Awards Ceremony & Networking Event
Tuesday, May 24 at 6:00PM
Lions Roar Brewing Company, Westfield, NJ
Downtown New Jersey gathered for celebration and camaraderie with those dedicated to making NJ's downtowns vibrant. We hosted our first in-person event since 2020 at Lions Roar Brewing Company, where we reconnected and recognized the projects, initiatives, and individuals of excellence while sampling some of Westfield's finest local brews and food.
2022 NJ Downtown Excellence Awards Photos
(click image to enlarge)
Downtown New Jersey Recognized Achievements in Downtown Economic Development at Awards Ceremony & Networking Event
Downtown New Jersey (DNJ) celebrated initiatives that have made a major or sustained impact on downtown economic development in New Jersey at an awards ceremony and networking event on Tuesday, May 24th at Lions Roar Brewing Company in Westfield.
Each year Downtown New Jersey recognizes New Jersey's best downtown projects and programs completed within the last two years, as well as individuals dedicated to downtown revitalization. Downtown Excellence awardees are considered exemplary models worthy of emulation.
"With each passing year, we are more and more impressed by the dedication and creativity of downtown organizations and their partners in providing services, engaging new audiences, and promoting economic development," DNJ's Executive Director, Courtenay Mercer said. "We are privileged and honored to recognize these efforts at our annual Downtown Excellence Awards ceremony."
DNJ presented the following Downtown Excellence Awards: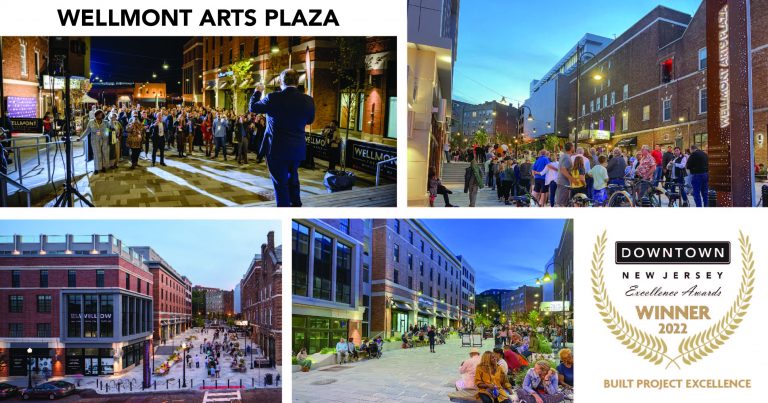 Built Project Excellence
Awarded to Township of Montclair for Wellmont Arts Plaza
The Wellmont Arts Plaza in Montclair, NJ, is the heart of Montclair's Wellmont Arts District and is the result of a true public-private partnership. The 15,000 square foot plaza is the centerpiece of the Seymour Street Redevelopment Plan, which includes 250 residential units, abundant retail and office space, and three parking garages. The plaza was developed by closing Seymour Street to cars and transforming it into a pedestrian plaza. Centered on the historic Wellmont Theater, the plaza was designed as a flexible space that is enjoyable for day-to-day use. It can host events at a variety of scales, and accommodates the patrons of the 2000 seat theater as they wait to enter. The main feature in the plaza is the "performance stair", which allows for casual seating and serves as a stage for outdoor performances, whether spontaneous or programmed. The plaza has a catenary overhead lighting system, hard and soft landscaping elements, outdoor furniture and seating, permanent sculptures, and a large mural.
During the ribbon cutting ceremony, Mayor Sean Spiller referred to this transformation as a new destination for the arts and one of Montclair's "proudest accomplishments". The plaza was made possible through the collaborative efforts of Ironstate Development, Brookfield Properties, Arterial LLC, Marchetto Higgins Stieve Architects, Minno and Wasko Architects, Bohler Engineering, Montclair Township, and Smith Maran Architecture + Interiors.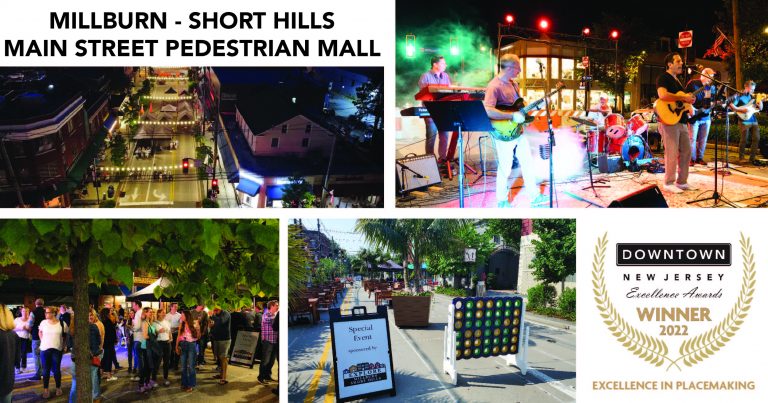 Excellence in Placemaking
Awarded to Explore Millburn-Short Hills for the Main Street Pedestrian Mall
As the Covid-19 pandemic continued to rage into the Spring of 2021, the Township of Millburn and its Special Improvement District – Explore Millburn-Short Hills (aka "Explore") – created a pedestrian mall along Main Street in the heart of Downtown. With Main Street closed to vehicles each weekend in the Summer and Fall, Explore managed an immensely popular music and entertainment program. Explore encouraged restaurants and stores to embrace outdoor dining and install seating, flowers and even potted trees and firepits. Explore developed a "Games on Main" concept, which included cornhole boards, a giant Connect Four board, and other games for children and adults. 2022 will see an expansion of the program with plans for outdoor yoga and exercise classes, art demonstrations, and other community events during "non-peak" hours.
Millburn Committeeman Richard Wasserman, a founding board member of Explore, noted that, "supporting an exciting pedestrian experience on Main Street has demonstrated our commitment to business recovery." An effective SID needs to play many roles and Wasserman added, "the excitement on Main Street has undoubtedly increased the positive perception of Millburn and played a part in reducing our commercial vacancy rate by 53% in 18 months and recruiting over 40 new businesses to our town."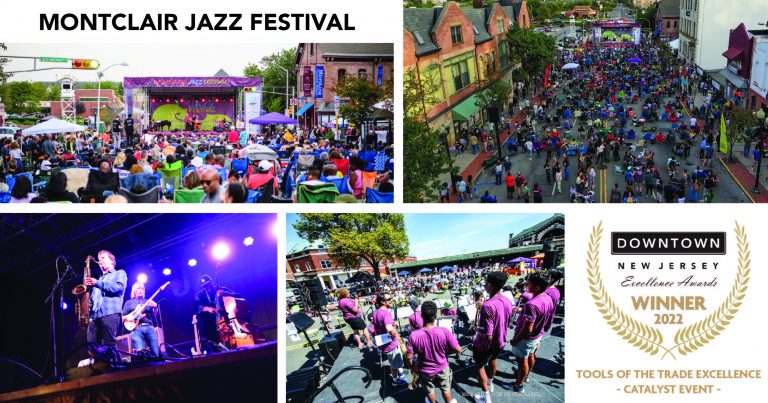 Tools of the Trade Excellence for a Catalyst Event
Awarded to Jazz House Kids, Montclair Center BID, and BDP Holdings LLC for its 2021 Montclair Jazz Festival
The Montclair Jazz Festival has been a successful staple of the community's music scene since 2010. What made the 2021 festival different and special, was that it was held for the first time in the heart of downtown Montclair. Capitalizing on the robust following the event had built over its 10-year run, the 2021 festival attracted 20,000 visitors who spent about $500,000 downtown in a single day. Thanks to the generosity and support of Essex County and working with the Township of Montclair, the festival was able to close a half-mile of Bloomfield Avenue, the town's main artery, to place stages, vendors, and enough room for attendees. Road closures of this scale are no small feat!
Essex County Commissioner and lifelong Montclair resident Brendan W. Gill said, "the 2021 Montclair Jazz Festival was a magical event that captured the spirit of Montclair's reputation as a diverse and inclusive community that embraces art and free expression. Essex County was thrilled to support this great event."

Individual of Excellence – Public Official
Awarded to Mayor John P. Labrosse, Jr., City of Hackensack
Since 2011, the City of Hackensack has undergone a tremendous renaissance, illustrated by more than $1 billion in private investment, 4,000 new residential units, with another 2,000 on the boards, and many sophisticated infrastructure, outdoor space, zoning, funding, and connectivity efforts. This level of success would not have been possible without the clear vision and dedication of Hackensack Mayor John Labrosse. During his nearly ten-year tenure as mayor, John Labrosse has demonstrated a tremendous commitment to the redevelopment of downtown Hackensack. Elected to the Hackensack city council in 2009 and becoming mayor in 2013 when the city's redevelopment efforts were in its infancy, Mayor Labrosse has remained the City's elected leader through its most significant stages of redevelopment.
"The remarkable redevelopment success in Hackensack would simply not have been possible without the clear vision and commitment of the city's municipal team, led by Mayor John Labrosse," said Francis Reiner, PP, LLA, Director of Redevelopment and Partner for DMR Architects, the city's downtown redevelopment consultant. "All you have to do is look around Main Street: the rising buildings, attractive streets, art, culture and overall vitality are all due to his unparalleled dedication."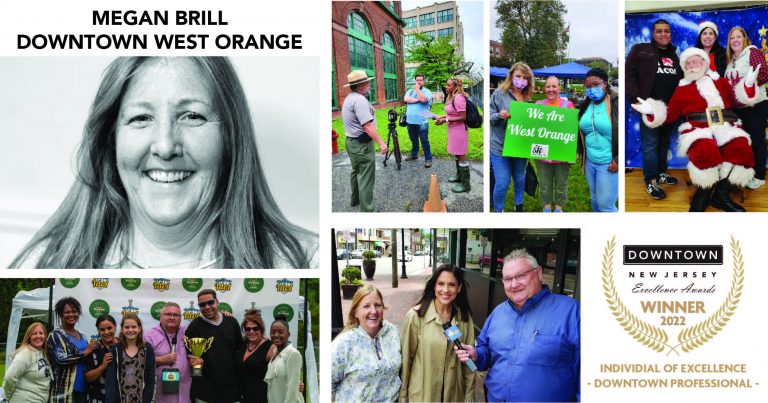 Individual of Excellence – Downtown Professional
Awarded to Megan Brill, Executive Director of the Downtown West Orange Alliance
Megan Brill has been the Executive Director of the Downtown West Orange Alliance (DWOA) since 2013. The DWOA follows the Main Street Four Point Approach™, a volunteer-driven, historic preservation-based, economic development program. Megan Brill and her team engage the local community in activities that support downtown development and increase the West Orange Main Street's contribution to its local economy. Megan has curated a portfolio of events and activities that support the Downtown's economic development, such as business openings and ribbon cuttings, community events, and annual holiday programming. DWOA events include the Annual Mayor's 5K Run/Walk, Downtown Thursdays, the Annual Holiday Open House, as well as collaborations between local organizations such as the West Orange Farmers Market, Thomas Edison Museum, Turtle Back Zoo, and others.
"Megan is one of the most dedicated individuals when it comes to the improvement, enhancement, and appeal of the Downtown District in West Orange," said Michelle Casalino, West Orange Township Councilwoman. "She is well-known, well-liked, and part of the fabric that makes our Downtown successful and fun."
DNJ received many exemplary award nominations. In the spirit of encouraging innovation among NJ's downtowns, DNJ will also recognized the following projects and initiatives: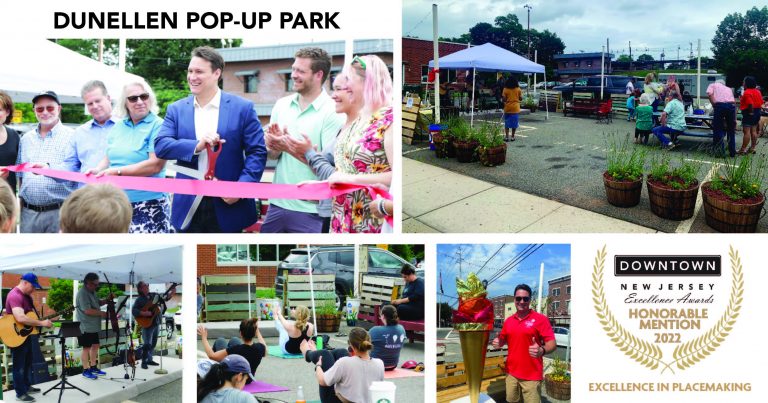 Honorable Mention for Excellence in Placemaking
Recognition to the Borough of Dunellen for its Pop-Up Park
In the summer of 2021, the Borough of Dunellen implemented the first of several community revitalization and placemaking efforts of the mile-square borough – a pop-up park located along the main commercial corridor of North Avenue. Reflecting the importance of public space and placemaking initiatives, the low-cost, high-impact project brought to life an under-utilized parking lot in the heart of the downtown. Located near businesses, the train station, and Borough Hall, the temporary place provided space for residents and visitors to sit, relax, engage with their community and take part in special programming, such as yoga classes, musical performances, Coffee with a Cop, and programming in support of the arts, the library and local businesses. Through community support and corporate sponsors, the Dunellen Pop-Up Park engaged hundreds of residents and visitors and more than 15 local businesses and organizations.
"Through the pop-up park, hundreds of residents and visitors who may not have otherwise spent time downtown last summer were able to connect with neighbors, businesses, and organizations; and most importantly, experience the great downtown atmosphere of Dunellen. The project was made that much more special because of the heart of Dunellen, our community of volunteers, who brought this project to life," said Mayor Jason Cilento.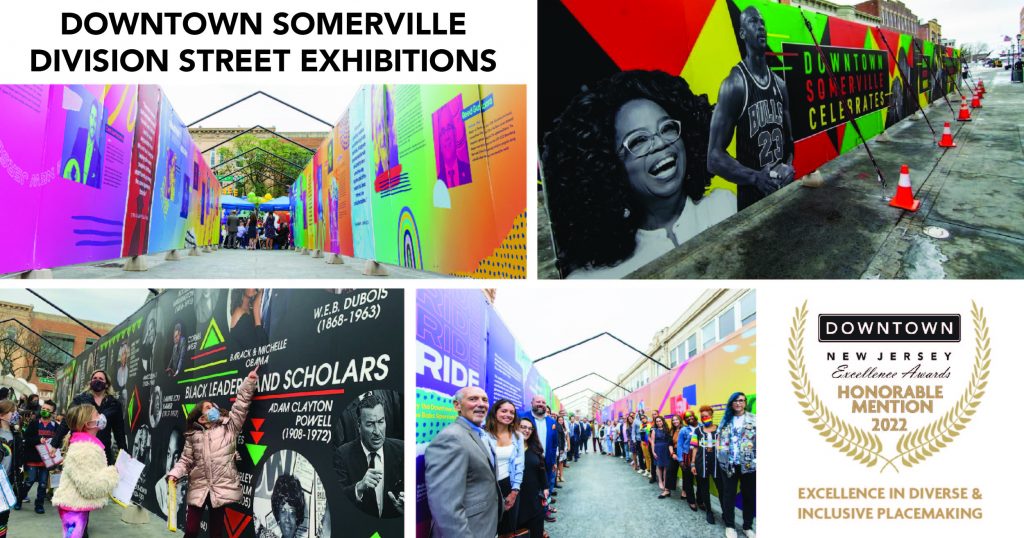 Honorable Mention for Excellence in Diverse & Inclusive Placemaking
Recognition to Downtown Somerville for its Division Street Walkthrough Exhibitions
In 2021, the Downtown Somerville Alliance (DSA) unveiled two 75-foot walkthrough exhibitions in tribute to black innovation during Black History Month and trailblazers in the LGBTQ movement. The creative placemaking project comes on the heels of the Alliance's recently adopted strategic plan that includes diversity and inclusion as a top priority for the organization. The Black History installation paid homage to important figures in history including African American inventors, abolitionists, leaders and scholars; but more importantly it recognizes those who, on a local scale, made an impact on the community. The Pride Month mural was commissioned by the DSA as a part of their "Paint the Town Rainbow" campaign with RWJ Somerset, and was created by David Ayllon of Korn Hynes Communications. The installation featured national, state, and local icons.
"Division Street was envisioned as a space for community – a place where people can come together with their neighbors, families and friends to share laughs, smiles and take in a one-of-a-kind experience." Natalie Pineiro, Executive Director of the Downtown Somerville Alliance, said.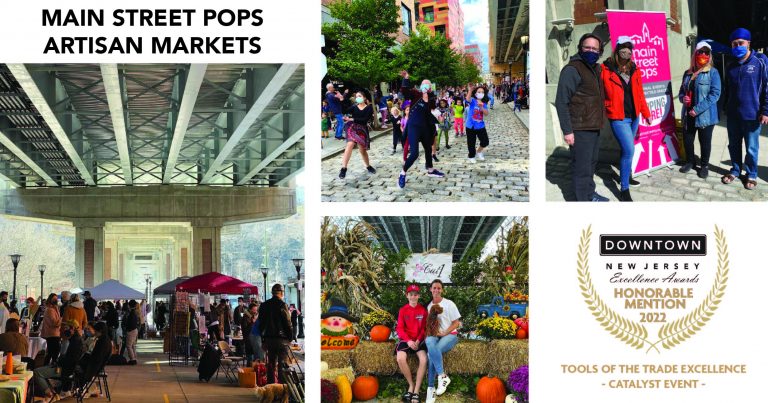 Honorable Mention for Tools of the Trade Excellence for a Catalyst Event
Recognition to Main Street Pops for its Artisan Markets
The Main Street Pops Artisan Market focuses on creating an atmosphere of inclusiveness and community in the micro-neighborhood of Northwest Hoboken, curating a variety of diverse and high-quality vendors, with new offerings monthly, facilitating a relentless local marketing campaign, cultivating partnerships with local nonprofits and businesses that further the mission to create community via arts-related Placemaking and cultural offerings. In 2021, Main Street Pops organized 12 markets in Hoboken, the final market was the big "showcase" at the Lackawanna Terminal.
"This vibrant, festive market is the perfect way to bring residents and visitors together to support our local business community," said Mayor Bhalla in a statement. "I strongly encourage everyone to stop by and shop local this holiday season. The City of Hoboken is excited to welcome this new market. Thank you to the Hoboken Business Alliance and Main Street Pops for organizing what I am sure will be a new holiday tradition."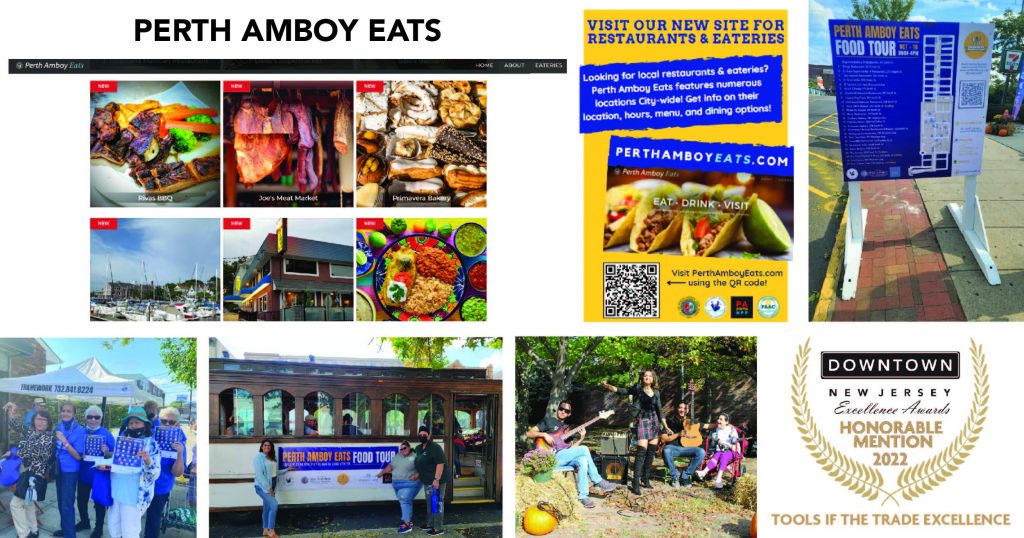 Honorable Mention for Tools of the Trade Excellence
Recognition to City of Perth Amboy Office of Economic & Community Development and the Perth Amboy Business Improvement District for Perth Amboy Eats
Perth Amboy Eats is an initiative born during the Covid-19 pandemic to serve as an online promotional tool for restaurants and eateries in the City of Perth Amboy. The website promotes contactless ordering by bringing visitors and residents to a centralized location to learn more about local restaurants and eateries. Website visitors can access restaurant menus and view photos of food, which provides better insight into the type of cuisine each establishment offers. Many of Perth Amboy's eateries are small mom & pop shops who did not have an online presence – this program helped keep them connected to customers. The program was later enhanced with a food tour where over 120 guests took to Perth Amboy's walkable downtown to enjoy food tastings and music.
"We believe the best way to experience our city is through its food and culture," said Helmin J. Caba, Mayor of the City of Perth Amboy. "Perth Amboy has so much to offer when it comes to good eats, and there is nothing better than discovering one of our local restaurants and trying something incredibly delicious. We made it a priority to help our restaurants to keep serving during such trying times. I want to recognize the outstanding work and partnership of our OECD and BID offices and for making this idea come to life."
Downtown New Jersey
DNJ is a non-profit membership organization of individuals, businesses, developers, government agencies, and local and regional entities that are passionate about downtowns. Downtowns reflect our communities' unique identities, provide a focal point, a convenient local place of commerce, and offer a sense of place where people can gather and truly be a community. DNJ provides advocacy, education, and technical assistance resources dedicated to ensuring the vitality of our downtowns. For more information, visit www.downtownnj.com.