2019 Downtown Excellence Awards
Courtenay D. Mercer, PP, AICP
Executive Director, Downtown New Jersey
September 18, 2019
Downtown New Jersey Recognizes Achievements in Downtown Economic Development at Annual Conference on Friday, October 18
Downtown New Jersey (DNJ) celebrated initiatives that have made a major or sustained impact on downtown economic development in New Jersey at an awards ceremony on Friday, October 18 during its annual Downtown Conference at the Westminster Arts Center in Bloomfield, NJ.
The premiere downtown economic development event of the year, the DNJ Annual Conference hosted industry experts who provide insights into downtown management best practices, as well as development, business and retail market trends. The conference provided not only an opportunity to learn the latest trends happening in downtowns, but also opportunity to network with peers. DNJ celebrated achievements in downtown economic development at the Downtown Excellence Awards presentation during lunch.
"Every year, we are more and more impressed by the dedication and creativity of downtown organizations and their partners in providing services, engaging new audiences, and promoting economic development," DNJ's Executive Director, Courtenay Mercer said. "We are privileged and honored to recognize these efforts through the annual Downtown Excellence Awards."
DNJ will present the following Downtown Excellence Awards:
Built Projects: Excellence in Community Development
Awarded to L+M Development for the Walker House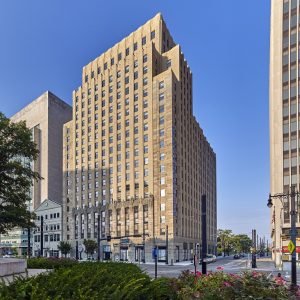 Walker House is a restoration and re-positioning of the historic Ralph Walker-designed New Jersey Bell Building in Downtown Newark. Built in the 1920's, this building, with its grand lobby and distinctive façade, is being adaptively reused to support 264 mixed-income apartments, offices, and ground floor retail spaces.
Walker House includes apartments at a range of incomes, with 20% of the total 264 apartments available to individuals and families making less than 50% of the Area Median Income for Essex County. With varied apartment types available to a range of incomes, Walker House provides for diversity in residents and adds affordable housing stock to the downtown area. In addition to apartments, Walker House includes 60,000 square feet of Class A office space and 45,000 square feet of retail space. The building has already signed several tenants for these commercial spaces, including Per Scholas, a national tech-training non-profit that focuses on teaching tech skills within lower-income communities to help students compete for higher paying jobs.
The project was made possible through a partnership of L+M Development Partners, Prudential Financial Inc., Goldman Sachs Urban Investment Group and Citi Community Capital. According to Reuben Teague, Vice President of Impact Investing at Prudential, "Collaborating closely with our public and private partners, Prudential has brought patient and creative capital to develop solutions that are turning downtown Newark into a vibrant, thriving hub. We already see the physical redevelopment of the Walker House creating catalytic opportunities for mixed income housing, high-quality retail, and spaces for organizations like our partner Per Scholas, which is providing free IT job training."
Tools of the Trade: Excellence in Communications
Awarded to the Partnership for Haddonfield for 2018 Communications Campaign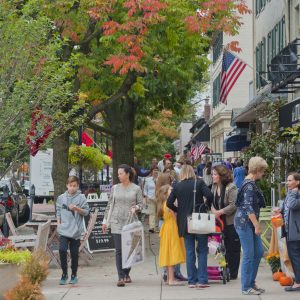 The Partnership for Haddonfield (PfH)'s 2018 Communications Campaign communicated Haddonfield's position as the place to be. Comprised of a robust professional public relations and social media presence, the highly-visible communications campaign was prominent, with vibrant story placements, onsite special event coverage, and a high-voltage social media presence. "The 2018 Public Relations Campaign for Downtown Haddonfield kept our Downtown top-of-mind through effective news story placement and onsite news coverage of special events and happenings. News placements raised awareness and can be in large part attributed to year-round foot traffic in our Downtown," said Susan Hodges, Partnership for Haddonfield Chairperson.
The campaign netted Downtown Haddonfield national attention – it was named the 'Most Charming Small Town in New Jersey' by Reader's Digest in 2018. The campaign also garnered several other notable accolades including one of the 'Best Historic Small Towns' by USA Today's 10Best Reader's Choice Awards, and major news stories in MSN.com, Philadelphia Magazine, The Philadelphia Inquirer, New Jersey Monthly, NJ.com, and SJ Magazine. Haddonfield Commissioner, Jeff Kasko, heralded the campaign, "We are reaping the benefits of a well-rounded public relations campaign here in the Downtown. Keeping the spotlight on our Downtown via the media has generated positivity and pride, both with shop owners and visitors." The Downtown is thriving as it enjoys a 98% occupancy rate. The PfH's social media channels netted 1,158 Instagram, 1,309 Facebook and 348 Twitter followers. Suasion Communications Group of Haddonfield, PfH staff, and a team of volunteer business owners led the campaign.
Tools of the Trade: Excellence in Placemaking
Awarded to the Elizabeth Avenue Partnership for Downtown Student Art and Mural Project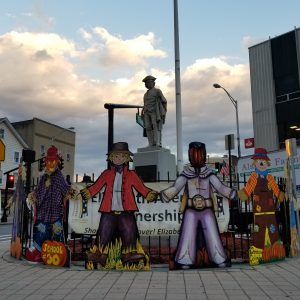 The Elizabeth Avenue Partnership (EAP) collaborated with Elizabeth Public School art students and local artists to bring dramatic changes to an urban downtown through art, murals, and wooden holiday decorations that helped to transform this bustling urban hub into an art-walk. The first installation occurred in November 2017, when 15 schools were chosen to create decorative life-like wooden Toy Soldiers to be placed in the district's center square for the holiday season in time for the annual Tree Lighting Ceremony. This initiative has continued with seasonal motifs of decorative wooden Scarecrows in the fall, Snowmen in the winter, and colorful wooden flower decorations in the spring. The second installation occurred in April 2018, after a 2-year process of acquiring and choosing renderings from students in Grades 8-12 to transform drab traffic boxes along Elizabeth Avenue. Finally, the EAP worked with local artists to paint decorative murals along Elizabeth Avenue.
"The Elizabeth Avenue Partnership is developing opportunities for our impressive young artists to apply their talent, beautify our community and celebrate what can be accomplished by working together," said Mayor J. Christian Bollwage. "From traffic box murals to holiday decorations, such as the festive toy soldiers and wooden scarecrows to the most recent showcase featuring snowmen and flower planters, the Elizabeth Avenue Partnership continues encouraging collaborative efforts to showcase the creativity, inspiration and imagination of our residents."
Individuals of Excellence
Awarded to John Donio for Achievements in Promoting and Revitalizing Downtown Wildwood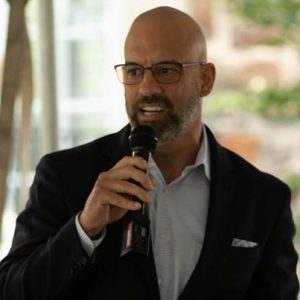 John Donio, president of the Wildwood Business Improvement District (WBID) since 2012 and owner of Daytona Inn and Suites in Wildwood, NJ, is leading the resurgence of Downtown Wildwood. Since its founding in 2006, John has been a vital part of the WBID's efforts to improve the economic development and growth of Downtown Wildwood, which ultimately contributes to the tourism impact in the Wildwoods as a whole. Most notable of his many accomplishments, John led the launching of the new $1.15 million-dollar Byrne Plaza in Downtown Wildwood – a 60,000 square foot outdoor space which hosts over 100 events annually.
"During his tenure as president of the WBID, John Donio has dedicated his efforts in achieving the WBID's key objectives – to increase foot traffic to the downtown, attract new businesses, and showcase Downtown Wildwoods as a viable tourist destination. The evolution of the Downtown the past seven-plus years is remarkable, due in no small part to John's dedication and contributions," said Patrick Rosenello, Executive Director, Wildwood Business Improvement District Management Corporation.
"John Donio demonstrates his dedication to the success of our Downtown every day," said Jodie DiEduardo, secretary for the WBID executive board. "He understands that the success of every business in the Downtown depends largely on the successful oversight and initiatives put forth by the WBID and he takes that responsibility to heart."
Individuals of Excellence
Awarded to the Abigail Galie for Achievements in Promoting Downtown Medford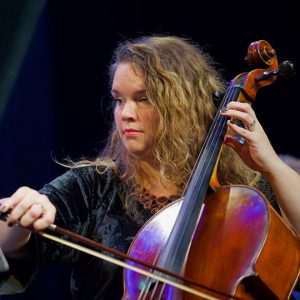 There was a void in organizing and supporting the downtown merchants of Medford, NJ. There was no budget and no forward movement. Many stores were vacant. Abigail "Abbie" Galie organized a small group of merchants with an idea of working together to help increase foot traffic and the awareness of the options of dining and shopping in the downtown area.
Initially, Abbie created a "Destination Medford" website and social media pages. It was her plan to help people discover all that Medford and Medford's Main Street have to offer. Destination Medford's facebook page has greater than 3,000 followers and continues to grow. She then expanded to organizing events as another way to promote downtown. One of the most successful events Abbie chaired was the Merry Main Street event, where many Main Street Merchants donated items and every shopper had a free opportunity to win a cache of prizes. This was very well-received and brought news media and other coverage to Medford's Main Street.
Through the business association and the Main Street Merchants committee, Abbie has helped to raise awareness of shopping choices and special events in the town – all at no cost to the merchants, the business association, or the township. It takes a special person to keep that momentum going and growing.
###
Downtown New Jersey
DNJ is a non-profit membership organization of individuals, businesses, developers, government agencies, and local and regional entities that are passionate about downtowns. Downtowns reflect our communities' unique identities, provide a focal point, a convenient local place of commerce, and offer a sense of place where people can gather and truly be a community. DNJ provides advocacy, education, and technical assistance resources dedicated to ensuring the vitality of our downtowns. For more information, visit www.downtownnj.com.